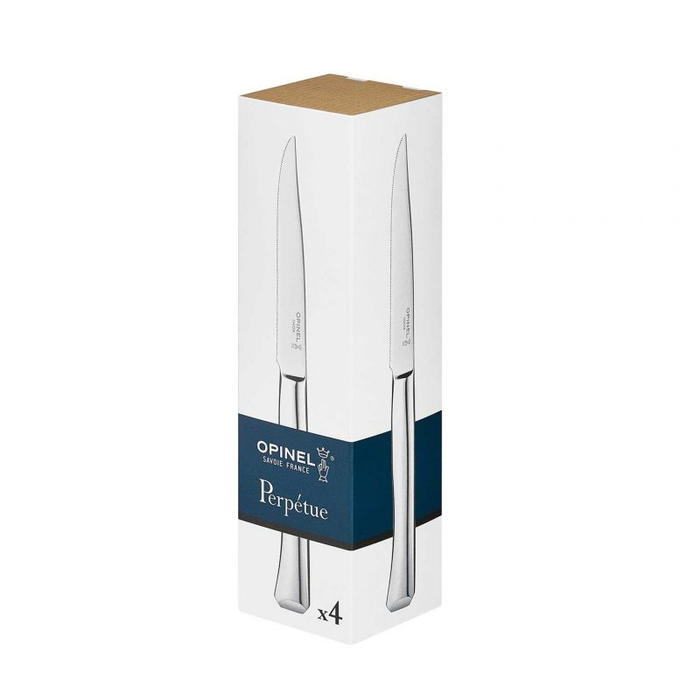 Opinel Table Collection - 4 Perpétue Table Knives
Save

0

%
Save %
Original price
HK$500.00
-
Original price
HK$500.00
Perpétue table knives – Opinel tradition combined with contemporary design.

This box of four table knives from the Perpétue collection is perfect as a gift to yourself or anybody who wants beautiful sophisticated designer tableware on their table.

These knives with their 100% stainless steel handle and blade are very easy to clean. Their micro-toothed blade requires no sharpening.

They are equally suitable for helping you to slice meat, vegetables or any other traditional food requiring no specific blade.

These knives are a little heavier than the knives from other Opinel collections because of their steel composition, which makes them even more comfortable and pleasant to handle.

This box comes with four knives so you can start or continue your Perpétue collection. Technical specifications:
X20Cr13 steel: X20Cr13 steel is a martensitic stainless steel, recommended for manufacturing blades requiring very good corrosion resistance.Its low carbon content does not allow it to increase in hardness, but it has a very high resistance to corrosion.
Micro-serrated blade: For a smooth cutting without tearing. The cutting power is long-lasting.

SPECIFICATIONS & DETAILS
Product Dimension [LxWxH cm]
Weight [kg]
Head Diameter [cm]
Weight Incl. Battery [kg]
Light Output [lm]
Beam Distance [m]
Run Time [h]
IP Class
Power Consumption [W]
Voltage [V]
Length [cm]
Storage Length [cm]
Corresponding User Height [cm]
Zone of Protection [Ft2]
Battery Type

Built-in

Humidity Output [g/h]
Particle CADR [m3/h]
Recommended Room Size [m2/m3]
Water Tank Capacity Max. [L]
Operation Noise Level [dB(a)]
Airflow [m3/h]
Blade Length [cm]
Air Speed [m/s]
Air-Cleaning Output [m3/h in CADR]
Number of Tools
Shaft Diameter [mm]
Rubber Cap
Brand Origin

China

Czech

Korea

Mexico

Thailand

Switzerland

Japan

USA

Taiwan

Germany

Holland

Italy

United Kingdom

Hong Kong

France

Portugal

Europe

Made In

China

Czech

Korea

Mexico

Thailand

Switzerland

Japan

USA

Taiwan

Germany

Holland

Italy

United Kingdom

Hong Kong

France

Portugal

Europe