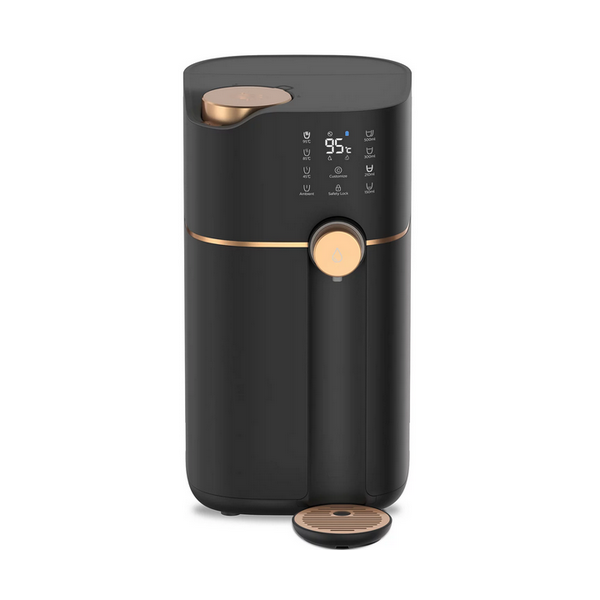 Philips RO Water Dispenser - ADD6911L (Black)
Save

0

%
Save %
Original price
HK$3,788.00
-
Original price
HK$3,788.00
HK$3,788.00
-
HK$3,788.00
Current price
HK$3,788.00
With smart wifi connection, the dispenser can track and monitor your drinking water. Instant heating technology provides hot water within seconds. The RO system guarantees clean water by removing up to 110 kinds of harmful susbtances.
RO filtration removes 110 kinds of harmful substances: The innovative AquaShield All-in-One RO filter removes 110 kinds of harmful substances that may exist in the tap water, delivering similar water quality as distilling.
UV-LED eliminates 99.9% of bacteria: UV-C LED triggers a photochemical reaction to destroy the DNA of bacteria. It acts as the second line of defense, eliminating up to 99.9% of bacteria in the filtered water tank, further ensuring the water cleanliness.
Fresh hot water on demand in 3 seconds: Thanks to the instant heating technology, the fresh hot water comes out within seconds, at the exact temperature you like. No more waiting.
Temperature adjustable by every 1 celsius via app: Ultimate temperature customization for your different needs. Via the intelligence mode in the app, you can choose any temperature you like between 45 to 95 celsius degree. Perfect for a big household.
Water volume adjustable by every 10ml via app: Thanks to the smart app connection, you can customize any water volume you like between 150 to 1000ml via the intelligence mode in the app.
Track, monitor and control your drinking water via app: The Philips Water app offers a smarter way for hydration. Via the water quality display and filter lifetime usage column, the extracted water quality and filter performance are visualized now. No matter what temperature or water volume your families need, you can customize it in the intelligence mode. Your daily, weekly, and monthly water consumption is kept tracked. The app will remind you of on-time drinking and help you to develop a healthy hydration habit.
Water quality detection for clean water assurance: The extracted water quality is detected every time when you dispensed. If the water quality is good, the light ring on the extraction button will light up in blue, otherwise will be in red.
Easy to use with the rotating base: Easy to extract water and refill the water tank from both sides with the rotating base.
4,000 single-use plastic bottles saved per year: The best packaging is no packaging. No more heavy carry and queuing up to buy bottled water. Pure-tasting water comes on demand straight from your dispenser.
No more re-boiled; less energy spent: Heat up just at the moment you dispense. No more extra energy to keep warm, or re-boil. Freshness for you, and energy-saving for the world.
SPECIFICATIONS & DETAILS
Product Dimension [LxWxH cm]
23.2×42.4×25
Weight [kg]
7.0
Head Diameter [cm]
Weight Incl. Battery [kg]
Light Output [lm]
Beam Distance [m]
Run Time [h]
IP Class
Power Consumption [W]
Voltage [V]
230
Length [cm]
Storage Length [cm]
Corresponding User Height [cm]
Zone of Protection [Ft2]
Battery Type

Built-in

Humidity Output [g/h]
Particle CADR [m3/h]
Recommended Room Size [m2/m3]
Water Tank Capacity Max. [L]
Operation Noise Level [dB(a)]
Airflow [m3/h]
Blade Length [cm]
Air Speed [m/s]
Air-Cleaning Output [m3/h in CADR]
Number of Tools
Shaft Diameter [mm]
Rubber Cap
Brand Origin

China

Czech

Korea

Mexico

Thailand

Switzerland

Japan

USA

Taiwan

Germany

Holland

Italy

United Kingdom

Hong Kong

France

Portugal

Europe

Made In

China

Czech

Korea

Mexico

Thailand

Switzerland

Japan

USA

Taiwan

Germany

Holland

Italy

United Kingdom

Hong Kong

France

Portugal

Europe